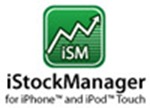 Okay, the economy sucks. You don't really need an app on your phone to tell you that. Let's just pretend, for the moment, that the economy was doing better – and therefore the stock market was something that you might actually want to keep tabs on (without an alcoholic beverage in your hand to lessen the blow). Okay, so we're having our group hallucination now – let's take it one step further and just imagine you're an Ameritrade customer.
Ah hah – if that's true, you should get this app. There's some good stock tracking programs out there, and the iPhone even comes with one (I personally like the Bloomberg app), but these apps don't integrate with your trading account. iStockManager does – it integrates with your Ameritrade account. If you have half a brain, you'd be a bit worried and leery about sharing your login information for a financial institution with an application – in this case, no worries – it really is a partner application with TD Ameritrade.
While it will remember your account login ID and password – it will require verification of the password to execute trades – so if someone jacks your iPhone, they'll only know your account ID (not password), and be able to see what positions you hold, and just how lousy your portfolio is doing. By the way, if your portfolio isn't doing poorly, please drop me a line and tell me what the hell your secret is. Read on for more details…
Obviously, I'm not keen on including screenshots of my account information (I'm just embarrassed, honestly), but the app is quite full-featured. It offers the ability to maintain a list of stocks for a quote list – offering rapid access to drilling into specific securities. You can also include any of the normal market indexes as well, just so that you can know everyone else is hurting, too. The quote list has a nice, easy to read display of the current, high and low price of the security for the day as well as the current change from previous close. Drilling into one of the quotes offers more details including the day's volume so far, it's current price one a range versus the 52-week high and low, and several more pages you can drill into including news stories related to the stock, level II quotes, charts and in future, the ability to display the option chains. On the top of the screen when looking at the quote, there's also a shortcut to start building a trade for the security.
When looking at the charts, they look nice and are easy to read – and you can quickly switch between intraday, 5 day, 3 month, 6 month, 1 year and 5 year views. The developers indicate some rather advanced plans for the charting capabilities, including zooming and candlestick, OHLC and volume charting. This would/will be slick!
There's also a 'News' tab, where you can see the latest general market news.
Obviously, since it's linked to your ameritrade account, you can also view your current balances and positions in the aptly named 'Balance and Position' tab and trade securities in the 'Trade' tab. The balances screen shows your buying power and balances, including the current change for the day in each balance type (value, cash, money market, etc.). The positions screen also shows the current value, your loss or gain (in dollars and percentage), and the amount of shares you hold. Tapping on one of your positions brings up the option to trade that position. The trade screen is pretty slick, allowing you to choose from the various order types, expiration options, etc. using the scrolling wheel type entry found in many iPhone apps. There's also handy buttons to change the quantity of shares up or down in quantities of 10, 100 or 500. In this screen, you can chose between trading stocks, options, complex options – and viewing your orders.
Finally, in the 'Configure' tab, if you have multiple ameritrade accounts linked to your login (like IRAs, trading accounts, etc.) you can switch between them here with the scrolling-wheel type selection.
All in all, it's a slick little app. I haven't used it for trading yet – but have been using it to keep an eye on my dwindling portfolio. Here's to hoping the market turns around sometime in the not too distant future, and I can use the app under happier circumstances! It's free, it works, it's slick – if you're an ameritrade account holder and you have an iPhone – go grab it!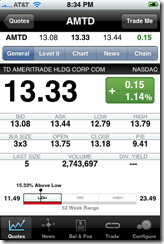 Stock Quote Screen – Note the percentage of 52-week high and low graph at the bottom – nice!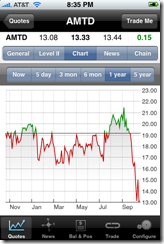 Stock Chart Screen – easy to read, and easy to switch between the historical options.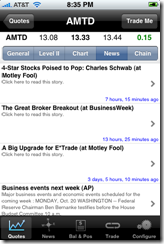 Stock News Screen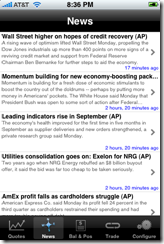 General Market News Screen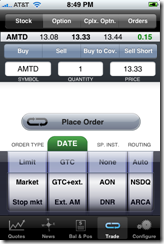 Trading Screen – with slick scrolling wheels to flick between the order options.