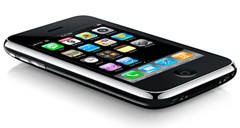 After continuing to live with an iPhone in the house, we've gotten a bit more used to (and sometimes frustrated) with some features and more general comparisons to other devices, such as Windows Mobile (WM). As we continue using the iPhone for the wife, here's some of my 'second' impressions, again provided in random order…
Expandability: So on the WM device platform, there's lots of third-party and freeware programs you can load up (or bog down) your device with. For the iPhone, they have the App Store. It's a fairly new development, so time will have to tell just how even the playing field becomes with third-party offerings. So far, the App Store seems to be filled with lots of cheap (in two ways – price and quality) apps that have been hastily created to either do something cool, yet are useless – or to do something useful, yet are unrefined and incomplete.
App Store: So more specifically on the whole App Store thing – I like the idea a lot. It's nice to have a single place for finding and downloading add-in applications versus crawling the Internet for WM-related software. As mentioned above, there's a lot of junk out there App-wise in the store. While that's to be expected, there's no real option for trial software. Sure, the prices tend to be small at under $4 for many of the apps, but still – spending 1-4 bucks a pop for junk software you delete isn't a path to financial intelligence. Some 30-day trial option for all the app options would really help you find the best app to fit your needs, and ensure your supporting good development – not bad. The App Store integration onto the iPhone itself is nice – letting you browse and download the apps directly from the phone. That way you can realize even faster that you just flushed another $1.99 down the toilet…
Synchronizing: On WM, it's no doubt that Activesync has had it's share of issues and limitations, but it does work and does well to synchronize files, mail, calendar items, contacts, etc. For the iPhone, instead of Activesync, you use iTunes. There may be some bias here, as I don't often use iTunes – but it is definitely a bigger footprint than the Activesync tool. It's slower, and as far as synching goes, it's not any more full-featured than Activesync. One thing I like about WM is when you have the device connected, you can easily open up it's storage and transfer files back and forth from the PC. Unless I'm just blind, I have yet to find a way to do this with the iPhone and iTunes. That's quite frustrating and limiting, especially when you just want to do something as simple as copy over docs or PDF files to read while mobile.
Big Brother: While it's not like there's an endless realm of third party apps for Windows Mobile, recent situations with Apple removing applications from the App Store really has to make you stop and wonder. While WM doesn't have anything as centralized and easy as the App Store, it does allow for software to be developed and released without Microsoft acting as Big Brother preventing distribution. There's even functionality in the device to allow Apple to remove an installed app from your phone! This is a pretty hefty knock on the Apple platform.
Development: So maybe there's some special thing you need a program to do, and it doesn't exist. Well, that's where you step up to the challenge to develop your own. Both the WM and iPhone platform can be developed for, and dev kits are available to both. If you want to make something for the WM platform, you can go pay for Visual Studio (about $500), and you're off. Or, there are some free options for .NET compact framework that will work, albeit not as easily or as slick as Visual Studio. The Apple dev tools are a little more closed-off, as you would likely imagine. While you can sign up for and get the dev kit for free, it only runs on OS X – meaning if you don't have a Mac computer – then the cost to start developing is basically the cost of going out and buying yourself a Mac (a lot more than the $500 for visual studio). If you've already got a Mac, no problem – if you don't, then that's not a cheap proposition. I don't have a Mac, so I encountered the 'then I can't develop for the iPhone' situation. Ugh.
Connection: So I'm not sure what gives with the iPhone 3G, but Apple didn't turn to the standard mini-usb connection for the phone. While it still connects via and can recharge via USB, the connection to the iPhone is proprietary. This is a quibble point, but come on. I've got a WM phone, ultra-portable hard drives, my GPS and my DSLR that all connect via mini-usb. That means when I'm on the road, I need 1 cable, and no funky power adapters. Sure, the iPhone means only 2 cables – but if everyone followed that mentality, it would be just 2 cables!
Updates: I'm giving the nod to Apple here. So far, they've released three new firmware revisions for the iPhone. You had 2.0.1, 2.0.2 and now 2.1. Granted, I haven't encountered any of the issues or bugs that need fixes, but it's nice to see such rapid progress and release on the firmware. WM hasn't seen very many updates (at least not on the phones I've been using), and to get a new version (like WM 5, or 6.1) usually means having to get a new phone in most cases. Apple provided the 2.0 software to the original iPhones as well – and while the hardware features won't be there, at least they have the presence of mind to share the new software with device owners! Big kudos to Apple here.
So… Does any of this really help to decide whether I should jump ship from WM to Apple? I'm still undecided. From a hardware standpoint, the biggest two concerns are the battery life and the physical keyboard. Neither of those are complete show-stoppers. On the more general front, the concerns really focus around the limitations of expanding and synchronizing on the Apple versus the WM platform. The development limitation (at least for me, since I'm mac-less) isn't a show-stopper, but it is an inconvenience. The Big Brother nature of Apple and the App Store is a bigger threat – even if someone makes an App you want, there's no guarantee it'll get (or keep) Apple's blessing.
The iPhone 3G has some great features, and is at a pretty decent price point for what you get. Against the crop of WM phones that AT&T offers today, pretty much the Tilt being the major player, I'd say the decision is to go with the iPhone, no doubt. But what does the (hopefully not too distant) future hold for the WM phone from AT&T? The HTC Touch Pro is supposedly coming out soon (called the Fuze on AT&T) – word on the street is early October. Something that appears to compete even more directly with the iPhone would be the HTC Touch HD, but who knows when you'd be able to pick that up or whether AT&T will carry it.