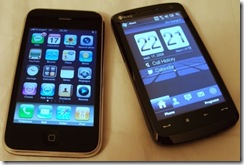 So now that the wife has had an iPhone for some time, and I've had some time to mess about with it – decision time has come to determine whether or not I will jump ship from Windows Mobile to the iPhone (or at least jump ship for a few months, hehe).
I tend to be a thoughtful person when it comes to decisions, and have posted a couple times on my impressions of the iPhone (here and here). On the whole, the iPhone isn't perfect, but it's not a bad choice, either. Right this second, there's not really any competition to the iPhone. However, around the corner always lurks new technology. There's bound to be something in the pipe to kill the iPhone's current prominence as the best all-around mobile device, right? Of course! Read on for more…
So what does the future hold for Windows Mobile (WM)? Well, supposedly Windows Mobile 7 and Windows Mobile 8… but for now, the current version is 6.1. It's fine – but to make it more user friendly and useful by a finger rather than a stylus, manufacturers like HTC and Sony-Ericsson are making their own shells to overlay on the front of WM. No biggie. The biggest problem? The phones that are most likely to directly meet the iPhone at it's game just aren't on the street yet. The main contenders from the WM camp are the HTC Touch Pro, the HTC Touch HD and the Sony-Ericsson Xperia X1.
Do these devices have more powerful hardware than the iPhone? Yep. Do they have a bigger battery? Yep. Do they have more megapixels, higher resolutions, stereo bluetooth, etc., etc.? Yep. Are they better than the iPhone? Well…. not so fast there.
When you're comparing bits and bytes, you can really go a bit nuts and overemphasize the importance of all those 'features'. Before you know it, you're lost in a maze of trying to get the best of everything – and sometimes you might even find it. Until something newer comes out in a month then you're left all alone with your pitiful choice that has one less megapixel than the new one. Come on people – get real. Here's my take on the big 'features' of these smartphone cell phones these days:
Operating System: I'm older, wiser, and a lot more "who gives a shit" these days, so I'm not anti or pro OS X, Windows Mobile or even Android. As long as it works, I'll be happy. Guess what? They all work.
Screen Resolution: I have a 61" 1080p television, with DirecTV HD DVR service, a HTPC with OTA ATSC tuners and HD-DVD and Blu-Ray capabilities. I don't really care about higher definition video, etc. If it's something I want to watch and care what it looks like, guess which device I'll watch it on. If you guessed not a phone – you're right. How much resolution do you need to answer the phone? How much resolution do you need to listen to music? How much resolution do you need to read email? It's not the resolution, it's the screen size that really matters here.
Screen Size: This matters a lot to me. I want to easily see the e-mail or the what have you that I'm reading. I'm done squinting at the tiny screen on my current Windows Mobile phone. It needs to be big, at least bigger than my current phone's 2.8 inches. The X1 is 3″, the iPhone is 3.5″ and the Touch HD is 3.8″. All others need not apply.
Camera: I have a Nikon D300 with a selection of pro-glass to put on it – and its battery lasts several outings. I'm not looking to take vacation pictures with this thing, or precious family photos. When I really want to take a picture, guess what I'll reach for. If you think a phone, or even a 'point and shoot' camera, with their tiny little sensors (no matter how many megapixels you cram on them) is going to make me happy and prevent me from taking my D300 when I want to take pictures, then you're nuts.
Input Method: A physical keyboard is nice for typing away on e-mails, but it comes with some tradeoffs – it adds weight and girth to the phone, and many of the ones with keyboards seem to have smaller screens, while the bigger screens favor the 'virtual' on-screen keyboard. It'd be nice to have a physical keyboard. I've typed on the iPhone's virtual keyboard, it's not the end of the world. The only one with a physical keyboard and a screen big enough is the X1, and it's not a feature worth basing the whole decision on.
GPS/Assisted GPS: I have a very nice, durable handheld mapping GPS unit with a color screen. It's a Garmin 60CSx. It has a compass, barometric altimeter, topographic maps, road maps, turn by turn and off-road navigation, 2GB of storage and runs on two AA batteries for over 15 hours. Oh, and it's waterproof. And it's rugged – for dropping and crushing against rocks while scrambling up them. The GPS in my phone just needs to show me where I am. If I'm really looking to get lost and then find my way out, I'm taking my Garmin. If I'm looking for what the closest Sushi place is, any GPS is fine.
Stereo Bluetooth: Bluetooth is handy – for a headset for calls. Stereo Bluetooth is something that could be nice, but in all honesty – if I'm listening to music, who gives a damn about the wires? To top it off, then you'd have to worry about recharging your headphones, too. Jeesh.
Wi-Fi: They all have it, as they should. No real decision making here.
So… What to do, eh? The big features mentioned above make it really about a push between them all, and my current phone is in need of upgrade. The Sony X1 is interesting, but the screen size isn't a big upgrade, and the resolution increase will actually make it a tad 'smaller' in reality (though sharper, too) – though the physical keyboard is a plus. However, the Sony X1 isn't out yet and there's not even a US release date in sight. The HTC Touch HD is very interesting, with a nice big screen. While it's got a nice interface – it's really just a patch on top of Windows Mobile 6.1, and third-party apps are likely to not incorporate the same interface for the same look and feel. In addition, the latest news is the Touch HD won't be available in the US. At all.
So that leaves the iPhone 3G. It's popular. It's hyped up. It's got it's baggage and issues, but it delivers the features one really cares about. Push mail, Fetch mail, Impressive web-browsing, Large Screen, Smooth Interface, etc. etc. Okay. I feel like I'm giving in to some other freak side of technology and abandoning my upbringing – but I'm choosing the iPhone. Who knows if it's a permanent switch, but for my aging windows mobile phone it's an upgrade – and versus the current offering in the windows mobile space from AT&T (the Tilt), it's really no competition. Hello new iPhone!